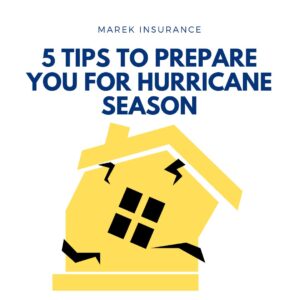 Living in Crosby, Texas, we are no strangers to hurricanes, and is considered high risk for hurricanes since it's only 68 miles from the coast. 8 hurricanes have been recorded in Crosby, TX, since 1930. The largest hurricane was Harvey in 2017. Based on data from riskfactors.com, 583 properties in Crosby were impacted by Hurricane Harvey in September, 2017.
Hurricane season, which officially starts on June 1 and usually ends around November 30, is a time when tropical storms can bring catastrophic winds, heavy rain, and flooding. It is no secret that when hurricane season comes around, it is crucial to be prepared in order to keep yourself and your loved ones safe. However, preparation is often easier said than done. That's why we have put together this guide to help you properly prepare for hurricane season in Crosby, Texas.
1. Review your insurance policies
It is essential to review your home or renter's insurance policies to make sure that you have adequate coverage. Check your policies for coverage limits on your home, personal property, and any additional living expenses that may be needed if you cannot live in your residence after a hurricane.
The team at Marek Insurance can help you review your policy and determine if additional coverage is necessary. It is also important to note that flood insurance is not typically included in a standard home policy and must be purchased separately.
2. Create a disaster kit
The American Red Cross recommends that you create a disaster kit for your family in case of a hurricane. Your kit should include at least a three-day supply of non-perishable food, water, a flashlight, batteries, a first-aid kit, any prescription medications, cash, and important documents.
3. Secure your property
Before a hurricane makes landfall, you want to make sure that your property is secure. Trim any weak branches from trees around your home and bring in outdoor furniture, bicycles, and trash cans. You may also want to consider investing in storm shutters to protect your windows.
Texan Insurance recommends that you speak to a professional to make sure that your home is equipped with the appropriate storm readiness solutions, as there are many different types of coverings and other home upgrades that enhance your protection.
4. Have a plan in place
In preparation for hurricane season, have a plan in place for your family. Discuss evacuation routes and ensure everyone knows where to go in an emergency. Have a designated family member or friend who lives in a different city or state as a contact person. And in case you're ever separated, prepare to communicate through your non-voice communication gadgets like walkie-talkies, hand signs, or via messages. In addition to damage on properties, flooding can also cut off access to utilities, emergency services, and transportation.5. Stay informed
5. Stay Informe
Finally, stay informed, especially when there is an approaching hurricane. Keep up to date on weather reports, and listen to local officials regarding evacuations. Social media sites and apps could also notify us, so install a number of them and monitor them frequently.
At Marek Insurance, we are dedicated to helping our clients prepare for hurricane season. Please review your homeowners or renters insurance policy, create a disaster kit, secure your property, have a plan in place, and stay informed. And of course, if at any time you have a question regarding insurance coverage, contact our team for assistance at www.marekinsurance.com.