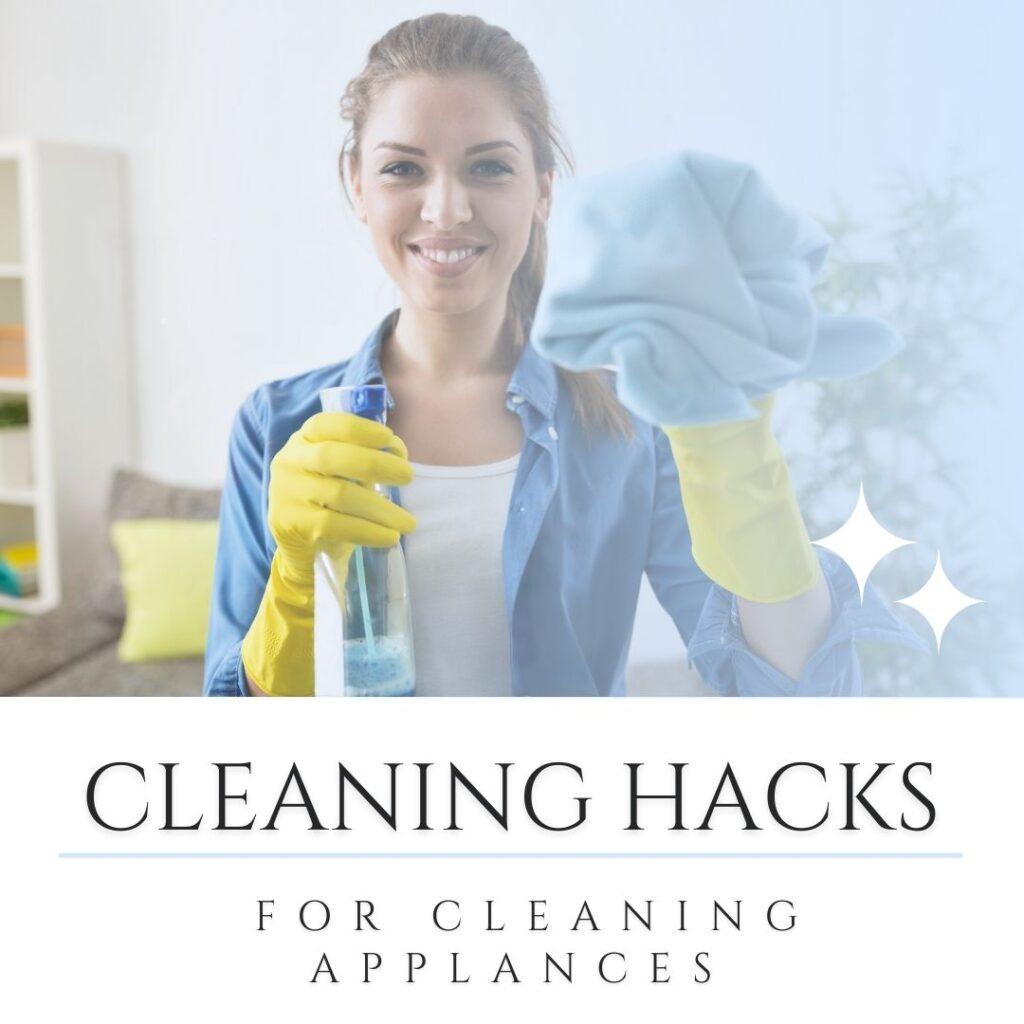 It's that time of year again – spring cleaning season! Cleaning the entire house can feel like a daunting mission, especially when it comes to larger appliances. But don't worry. We have some helpful tips to make tackling your bigger cleaning projects easier this spring. From kitchen necessities like your refrigerator and dishwasher, to laundry room essentials like your washer and dryer – these quick-and-easy appliance cleaning tips will help you get everything shining in no time. So break out the rubber gloves, and let's get our spring cleaning on!
REFRIGERATOR
Freshen it up with Alka-Seltzer
Freshen up your fridge in a snap with this simple hack! Drop an Alka-Seltzer tablet into a cup of water, and then let it work its magic for about 30 minutes. The result? A clean, fresh-smelling refrigerator that's ready to go! And if you're still detecting any lingering odors, just whip up a quick solution of one Alka-Seltzer tablet mixed with one cup of warm water and wash down the inside of your fridge. You'll be amazed at the difference it makes!
Smell of Vanilla
Unleash the sweet aroma of vanilla into your fridge with this simple yet effective hack! You can banish even the toughest odors by placing a few drops of vanilla on a cotton ball and tucking it away in the back of your fridge.
FREEZER
Vinegar Every time!
Blend equal parts warm water and vinegar together in a spray bottle for a handy tool to easily spritz and sanitize your freezer's nooks and crannies. Say goodbye to harsh chemicals and hello to a refreshing, eco-friendly cleaning experience.
 Activated Charcoal can knock out tough freezer smells.
Say goodbye to odor-causing culprits with a simple solution: activated charcoal. This powerful natural ingredient activated in your freezer effortlessly kicks out odors, leaving your frozen goods smelling fresh and clean for longer.
DISHWASHER
Lemon Kool-Aid, who knew?
Make your dishwasher shine like new with this unexpected trick! Begin by double-checking that your dishwasher is completely void of any dishes. Now, get ready to be amazed by Kool-Aid's cleaning power. Choose an unsweetened lemonade packet and pour it into the detergent dispenser. Keep in mind that only this specific flavor will work its magic! Finally, run your dishwasher on any cycle and enjoy the sparkling results. Say goodbye to stubborn stains and hello to a like-new dishwasher.
Tang – still relevant
Revolutionize your dishwashing routine by swapping out your regular detergent for a surprising ingredient: Tang! The beloved orange-flavored drink mix contains citric acid that works wonders in removing annoying hard water stains, soap scum and other unsightly gunk.
OVEN
Salt – what can be easier?
Cooking can be messy, especially when something spills in your hot oven. Simply sprinkle some salt on the spill and let it work its magic. When the oven cools down, the stain wipes away effortlessly. It's an easy and effective solution that will keep your oven looking brand new.
Baking Soda, Vinegar and Dawn – a powerful combination
Get your science on with this powerful oven-cleaner mixture! Combine 5T baking soda,  4T vinegar, and 4 drops of Dawn dish soap in an oversized bowl to create a bubbling and expanding concoction that will leave even the dirtiest surfaces sparkling. But it's not just for your oven – this cleaner is perfect for tackling shower scum and bathtub grime too!
GLASS STOVE TOPS
Baking Soda and Dish Soap – gentle cleaner for a delicate surface
Begin by adding your favorite dish soap to a bowl of hot water, then dip your trusty rag in the mix. Wring out the excess water until it's half dry. Apply a touch of baking soda on any stubborn stains and watch as the magic happens. With the damp rag, drip the soapy water onto the baking soda. After 15 minutes, gently wipe the surface and see those pesky spots disappear without a scratch.
MICROWAVE
Steam clean your microwave with paper towels.
All you need are some ordinary napkins and a trusty microwave. Place a few damp napkins in the microwave for a quick 3-4 minute stop, and voila! Say goodbye to stubborn grime and dirt, thanks to the power of steam. Cleaning has never been this effortless and fun!
For extra tough grime, add a tablespoon to the water.
Need more tips?
https://www.texaninsurance.com/blog/7-organizational-spring-cleaning-tips/
Right Click to download the infographic.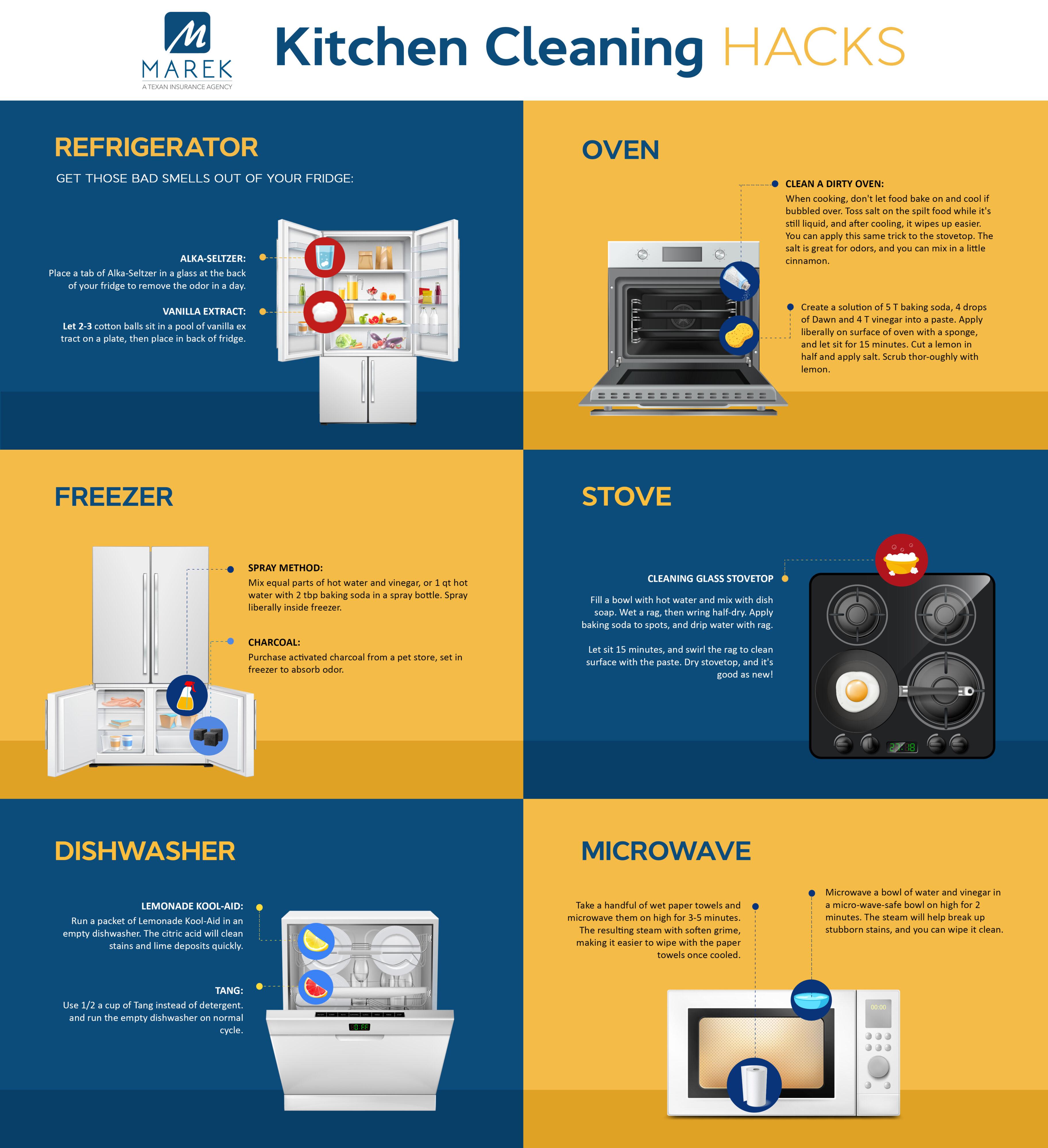 Sources:
Consoluditefoodsources.com